Appointments, consultations, and more waiting, oh my!
Happy October! It's strange to now be in the month of ubiquitous "breast cancer awareness," when it seems that every company has decided to vomit pink ribbons and pink merchandise to raise awareness and raise sales of their pink things. I know I sound a bit jaded about the whole thing, but that's only because a few years ago, I was the one who gladly ponied up money to buy the pink Panera coffee mug with unlimited refills during the month of October. The last time I ordered checks from the bank, which was at least 10 years ago, I chose the pink ribbon checks. I suppose it made me feel good that a "portion" of the proceeds was going to breast cancer research, but as the years have gone on, it seems everyone has gotten on that bandwagon. So, get ready for a lot of pink, people!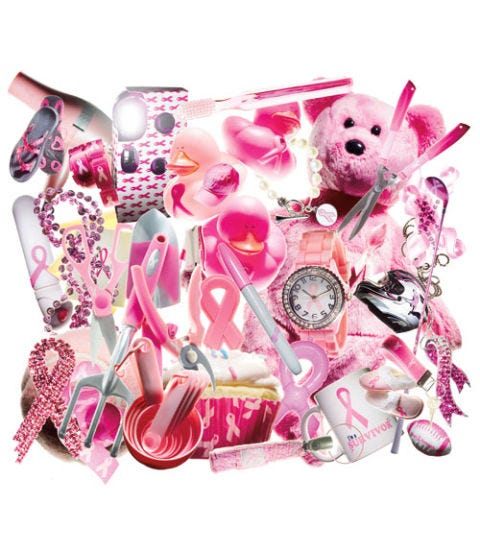 I waited since my last update to get through several appointments so I could update it all at once. Sorry, this is a LONG post. Below, feast your eyes on a week (plus) in the life of a newly diagnosed breast cancer patient:
Thursday, September 24th: Dr. Dudak
After my Dream Team tour the day before, Eric and I met Dr. Dudak again to go over the information up until that point. More good news to share: I don't have any genetic mutations that can be blamed for this. The full genetic panel came back negative, which is great news not just for me but for my family members. Yay!
Dr. Dudak also informed me that she and tumor board had discussed my case and that based on what's going on in the boob, I am a candidate for one of two types of surgery. One is a lumpectomy, which means she would scoop out the lesions, leaving a clear margin of cancer-free tissue. This is a less invasive surgery with a much easier recovery. The downside is that with a lumpectomy I would HAVE to do radiation on the entire right breast. Another downside is that given the fact I have three lesions, and that lobular lesions sometimes grow in branch-like formations, there's a good chance the surgery margins would not be clear and I would have to go back in for more surgery. The second choice is a mastectomy, where all of the breast tissue is removed. This could potentially make me avoid radiation. That would depend on whether the biopsy of the lymph nodes comes back clean, which we are really, really hoping for. However, a mastectomy is a much more serious surgery, with at least one night's stay at the hospital and a significantly longer recovery. Both a lumpectomy + radiation and a mastectomy have the same lifetime recurrence rate, which is very, very low.
The decision became agonizing from that point. Should I just take the boob intruders out and zap the remaining partial boob with radiation? Or should I just say good-bye to both knockers and have the peace of mind of no more mammograms and MRIs every six months? I could see pluses and minuses to both. I needed to speak to a couple of plastic surgeons to discuss reconstruction options for both surgeries. Dr. Dudak astutely decided to let me have a week (plus) to think about it and make the decision I would be most comfortable with. Our next appointment will be on Tuesday 10/6 where the surgery date WILL be set.
Friday, September 25th: Plastic Surgeon Consultation #1
I asked my mom (gracias, Mami!) to come up to Boca to hang out with our virtual learning kids so Eric and I could go see the first plastic surgeon. Imagine our ire when they didn't let him come into the office with me due to COVID restrictions! I tried to, as calmly as possible, explain to the receptionist that I wasn't there for a nose job or a Brazilian butt lift… I had cancer and wanted my husband there. No dice. I had to Facetime him in.
The nurse and the doctor were very nice. The doctor is clearly VERY experienced in breast reconstruction, and he didn't shy away from telling me about all the conference talks he's given on the procedures he's pioneered. I'm cool with someone tooting his own horn if he can walk the walk. He seemed very knowledgeable. While he measured my boobs, which he declared as "somewhat droopy," Eric was Facetiming and watching the whole thing play out. I mean, I thought I lost all sense of bodily shame after giving birth and nursing a baby… but it turns out standing topless in front of a guy measuring the distance between my neck and my nipples while a nurse holds the phone for my husband to watch is the ticket.
The one thing Plastic Surgeon number 1 said that I hadn't considered was that I could undergo a single mastectomy, and he would do a reconstruction with an implant on that side and do a "lift" on the healthy side to make them match. A single mastectomy hadn't crossed my mind and it was definitely less risky and 'final' than a double, so Eric and I were encouraged by this consultation. However, we were still kinda salty about him not being allowed in with me, so we left the appointment ready to hear what the other surgeon had to say.
Monday, September 28th: Virtual Consultation with Center for Restorative Breast Surgery in New Orleans
During the weekend, I continued my tireless research on lobular breast cancer, breast reconstruction, and just breasts in general. I came across a few Youtube videos, blogs, and Facebook posts about a sanctuary located in NOLA that caters only to breast cancer patients & survivors, and only does breast reconstruction. It's a private hospital run by doctors who have operated on thousands of women with amazing results. Behold, the breast center:
So, it turns out that New Orleans is THE place to go if you want to get an autologous breast reconstruction. This means that doctors take tissue from your own body and reshape it to make boobs out of it. In the case of the DIEP flap procedure, fat tissue from the abdomen gets transplanted to the breast. This is advantageous because the final result is very natural looking, and the tissue is less likely to be rejected because it's not a foreign body. Plus, you get a tummy tuck out of it. You can imagine how much this idea appeals to me. Seriously, if I'm going to go through cancer, why not get a bod upgrade?
The downside of this surgery is that it is major surgery that requires microsurgery techniques. Blood vessels have to be reattached one by one so that the new boobs have an adequate blood supply. The surgery typically lasts 8-10 hours.
In any case, I figured it didn't hurt to call the center and get information. My plan of attack is to get the mastectomy here as soon as possible to address the cancer and get it out. I will have to recover from this surgery and then perhaps (or not!) do additional active treatment such as chemo and radiation. Three to four months (or even a year!) after active treatment, I could go to NOLA and do the autologous reconstruction on both breasts… unless I'm happy with the uniboob implant situation, which I might well be.
The people at the breast center have made it an art to help you navigate their services. I had an hour long consultation with a nurse who explained the process from beginning to end. I would have to spend 10 days in New Orleans. This appealed to both Eric and me. One of the things stupid COVID took away from us was a family trip to New Orleans for Memorial Day Weekend 2020 to meet up with our Oregon people. In any case, I'm keeping this door open. I don't know if I will go through with it, as by then I may be over the idea of having surgeries, but I don't want to discount it. In fact, the thought makes me happy. The irony isn't lost on me that people flash their titties in New Orleans for beads, but what can I say? NOLA seems to be known for boobs in one way or another.
Tuesday, September 29th: Plastic Surgeon Consultation #2
On Tuesday, we drove to the Delray Beach office of Plastic Surgeon #2. I made sure to call in advance and confirm my husband could accompany me on this consultation. While Plastic Surgeon #1 is quite a bit older and very serious about his craft, this dude walked in like he was coming to have a beer with us. He was very informal, friendly, and funny, which again, I won't fault if he can do the job. However, his forte isn't breast reconstruction, and we generally got the feeling that PS #1 would be a better fit. The before/after photos of PS #1 were far superior to PS#2. Sorry, PS #2. The club music that was playing in the exam room and the stick-on nipples the nurse showed us didn't sway us in your direction.
Wednesday, September 30th: Consult for Florida Cannabis Card
My whirlwind week of appointments culminated in a consultation with a Medical Marijuana doctor. After doing some research and speaking to my cousin Cristi in Berlin, who is a survivor herself, I decided I'd be a fool if I didn't take advantage of the Florida medical marijuana program. THC, CBD… I admit I have A LOT to learn, but the positive effects of cannabinoids on both stalling tumor growth and the alleviation of negative side effects from cancer treatment are very encouraging! I got the official paperwork and should have my "green card" in a couple of weeks. It helps that both Dr. Reddy (the oncologist) and the psychologist/dietician are both very supportive of the use of cannabis for breast cancer. Cue up Bob Marley. I'm ready.
This week of appointment after appointment was also filled with Zoom classes with my students, a couple of trips to the beach, and a wonderful Sunday lunch with my parents. I can't express just how ready I am for surgery. Let's get this party started already. Of course, this will be one of the worst parties in the world, but the sooner we start it, the sooner I can get back to my regularly scheduled uneventful life!
If you made it to the end of this post, thank you! ❤️